Finally I've gotten myself around to posting the review of my first Ma.K walker. It was and is still, my favourite walker in the SF3D/Ma.K universe. First caught wind of it in the modeling video and immediately fell in love with it. Realized that it cannot be found in Singapore in 2007, decided to check out Ebay/Yahoo Auctions Japan. Found that the price of one is in excess of 150USD!!! Well, first time I've ever bidded on Ebay for anything, was for this kit, and it went all the way up to 215USD. I gave up at 180USD cos that was just plain crazy. Finally got one at Yahoo Auctions Japan, and that was after a bloody nose fight of a bid which the other bidding parties gave up at 186USD, and that's before shipping.
Anyway back to the review, this is a WAVE issue of the Gans, land version. I read somewhere that only 2000 was made. Not to be confused with the space version. (There is a space version
as documented by Ma.k in Action
which is even rarer and contains resin parts. Even if you see this in YAJ, you can forget it because it went for in excess of 20000yen)
This kit is basically the Neuspotter head mounted on the Krote body, with a few additional parts and 6 rocket tubes.
The Gans was an AI unit and used by the Strahl for reconnaissance and attack purposes.
Details
Scale: 1/20
Type of material : injection molded, multi-media, khaki colored plastic
Number of parts: ? in many sprues
Decals: yes
Instructions: yes
Overall quality: Very good, virtually no flash
Overall accuracy: Accurate
Date of release: Jan 2005
Release price: 4800 yen (price from HLJ)
Current Running price in YAJ: 8000yen -
14100yen
!!!
Pictures

Box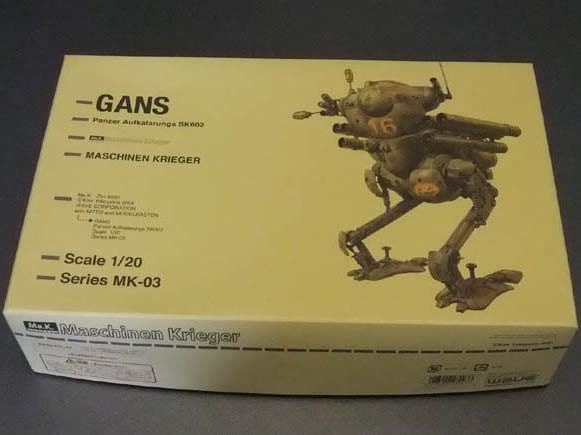 Box opened showing all the glorious stuff (Sorry I did not take pictures of individual sprues)
Decals (I really like the pumpkin head!)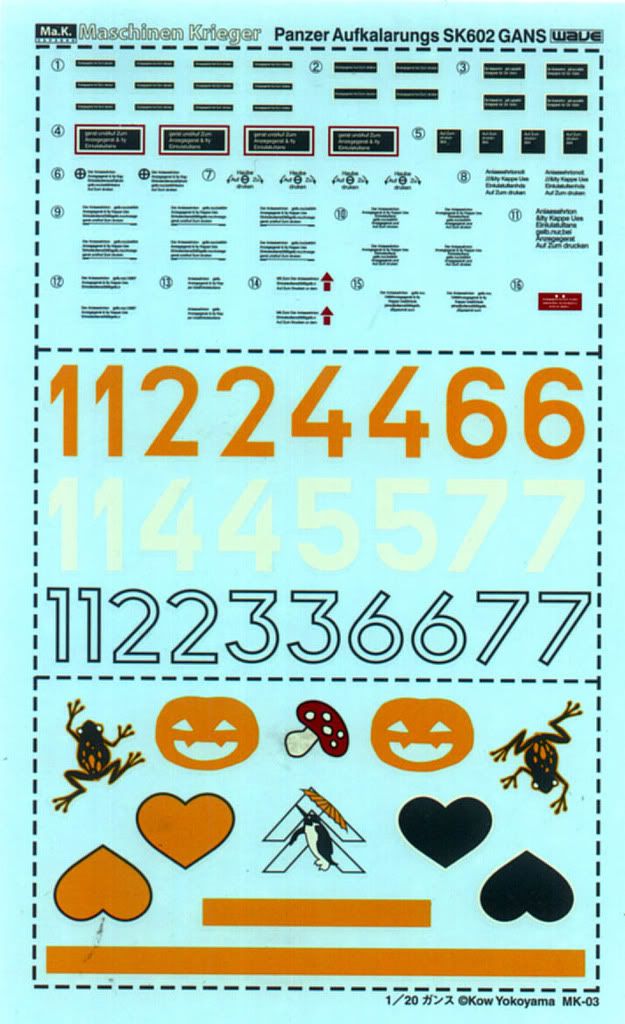 Instruction manual front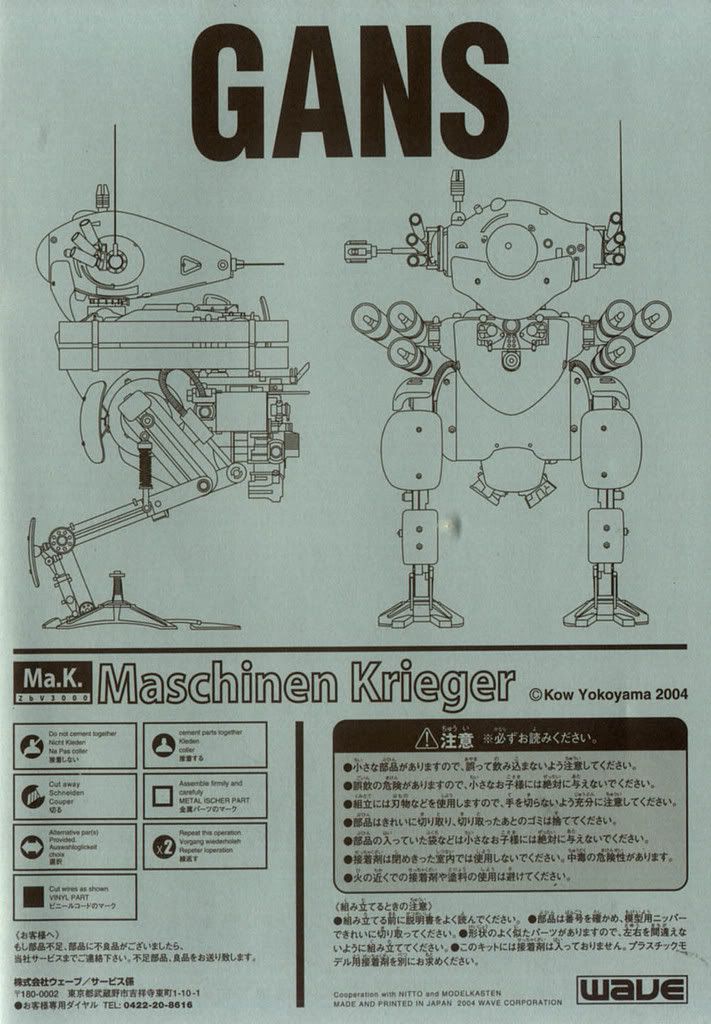 I haven't build mine yet, but looking at the instructions, it looks a bit complicated to build. Very happy with the parts detail and such, my only gripe with this kit is the construction of the rocket tubes. Instead of giving us beautiful brass tubes like in the Nitto Krachenvogel kit, WAVE made 2 halves of rocket tubes for us to glue and sand. Imagine the huge ugly seam line to sand per tube. Also, I would appreciate if they could include an Eddy Amsel or some figure which this kit lacks. All in all, this is still THE kit to get and its one of my personal favourite. Hopefully WAVE or some other company would reissue it as one is definitely not enough for me!