On a side note, a few months back I took part in the HobbyFanatics' Fanatic Fest '07. I entered the Sci Fi & Creatures category with my Ma.K Fireball, and the Anime Mecha Newbie category with my 1/100 No-Grade Nu Gundam. Both won something at the competition! :)
Today the prizes came in and they are resin casts of the HobbyFanatics logo made by cwmodels himself! Very light resin and the casts had very little flash. The pins were even casted and this enabled me to put together the model in less than a minute (see picture below)
I am very very happy!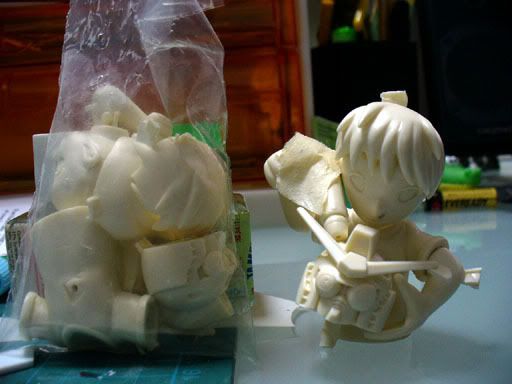 Now the thing is few people took part in the competition and I won mainly due to the fact I participated. I entered the competition with the attitude that I should support the forum's activities seeing how much time and effort the moderators had put in, as well as to get some feedback on my model making skills. My fireball isn't great, in fact if there were more entries I probably wouldn't have won anything, but that doesn't bother me. I had 'won' the LAST place in other competitions as well, but I enjoyed the build, the group effort, and the interaction, everyone inspiring each other's build and giving suggestions and urging one another... THAT's the fun!
I prefer meeting up with people like in m.con, where I met up with KGM2, Max and Bernard, and talking with them got me SOOO excited about modelling and especially with Bernard, his passion with modeling inspired me even though it was the first time I talked to him... Also introduced me the Ma.K modeling book and now I am poisoned :)
Ya, and that time the SD Gundam show at United Square where I met up with Salmonjim and finally got to meet Pazu face to face... They all all very nice, sharing tips and I also get to see their SDs which are waayyy better and uber cool!
Ok ok, I am being lorsoh (long-winded) already..
Winning is a bonus to me, the more important thing is that I participate... And what a bonus it turned out to be!
Thanks CHI!
Fanatics Fest 08 I will be participating again!